January 2018 Newsletter – ASNT President's Message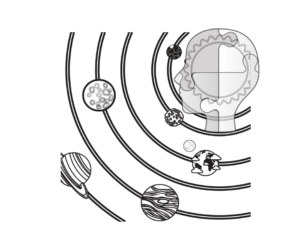 Been wondering how you can beef up your Astrological skills for 2018?  ASNT can help!
First, we have Level One – hanging around others who possess skills you'd like to learn.  Every month, Astrologers from all around Dallas (some from out of state!) get together in the same location to discuss and celebrate Astrology.  These are fascinating, varied people from all walks of life who represent all sorts of different experiences, studies, and passions about the metaphysics and astrologically-related items.  Some are full-time professional astrologers and some are hobbyists.  Some are on the same quest as you.  Chances are, you'll find something in common with not just one.
Moving on, we quickly get to Level Two – sharing with others in a group.   Every other month, these astrologers come together to hash out a particular topic.  The topic is usually published ahead of time, but homework isn't required.  All we want is a hearty dose of interest and if you have some knowledge to share, or experience to bring, we ask that you disseminate it to the rest of us is an open and caring way.  If you just feel like being a sponge and soaking up what's around you, that's ok too.  The point is to connect with others that you met in Level One.  There's a small charge to cover the meeting room.
Most people progress to Level Three – actually learning something from a known expert.  In the alternating months from Level Two, there's an opportunity to listen to someone who's an expert in their field present on a specific subject matter related to Astrology.   Here, you can fine-tune your knowledge with more in-depth specifics, or expand your mind with new realms, disciplines or areas of astrology you hadn't explored before.
If that isn't enough for you, you can progress to Level Four – Teaching Others.  If there's a skill you've been working on for a while, but you're looking for that extra kick or extra push to make you strive just that much harder to get to the next level, consider polishing it up to present for our group.  Talk to one of our Board Members about seeing if you could be one of our speakers.  That will make you focus, refine your thoughts, collect the points together and teach it to the rest of us.
Level Five is giving back, and you don't have to go through the previous levels to get here – you can join the ASNT board, take on one of the open Board Positions (currently, we have Programs Chair and Publicity Chair open).  This allows you to interact with the community, coordinate with others who are passionate about Astrology, and help put together the programs that keep Astrologers getting together in the Dallas area.  It's a worthy goal and your assistance is always welcome.
Astrologically Yours,
Wayne Hall
ASNT President 2017-present
Comments
comments