September 2017 Newsletter – ASNT President's Message
Serving the astrological community of North Texas is what ASNT was formed to do.  Back in 1972, a group of astrologers came together and decided to be a source of education to the community about astrology.  That mission continues today, with monthly meetings and periodic workshops brought to you with that same goal in mind – find what the community would like to know more about, and marry that curiosity with the people in the field that can provide the answers to the questions being asked.
This past month we were very pleased to host Maurielle Balczon from Houston, where we were educated by and engaged with her full display of jewelry and astrologically-relevant stones.  If you missed her this past month, and have a chance to see her speak in the future, you owe it to yourself to attend her presentations.  As she spoke of the concept of Adornment, and Symbolism of the self and how one's Natal Chart might be embodied in one's appearance, I gained a greater understanding of the elements that make up my own appearance.  She also clearly explained the physiological reactions we have to different colors, and how that might impact people's reactions to us, or our reactions to others, or our environments.  Personally, since I'm in sales, I picked up some tips and tricks I might take with me in some of my own presentations.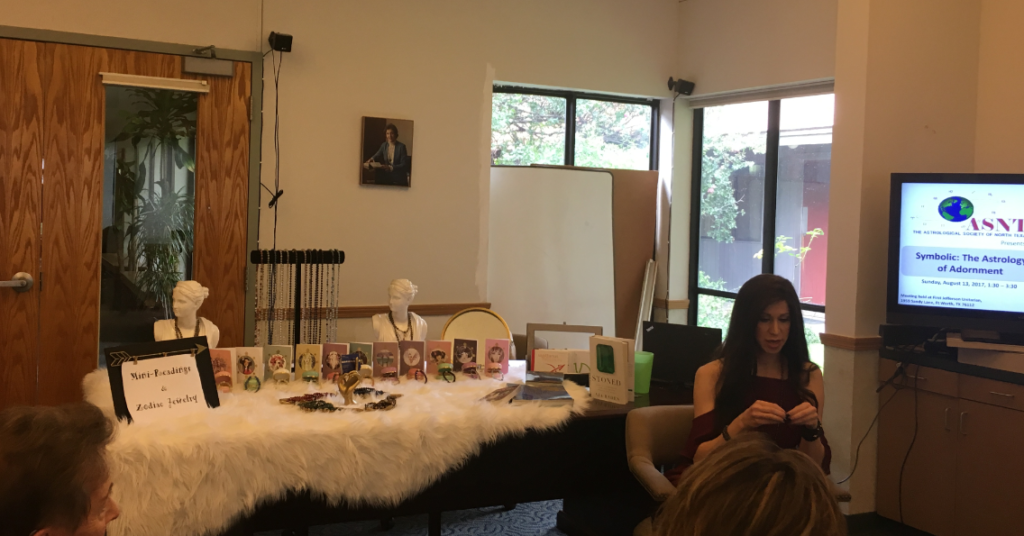 As a group, we continue with our series of alternating speaker-led lecture series with group exercises.  Your feedback is critical, particularly since we do not currently have a Programs Director.  In the absence of a dedicated person to find speakers or topics, if you can suggest a topic or even a person you know who might want to speak (or if YOU would like to speak), we would love to hear about it.  We have opened up the speaker pool to having a remote speaker talking to us over a video feed so now the entire World is our Oyster – in October we will have our first remote speaker!
This Labor Day Weekend, we celebrate the creation of the labor movement and the social and economic achievement of the American Worker.  We take a day off to say "thank you" to those who have served and helped build this country.
Speaking of serving, , the board still has openings for Programs Director, Publicity Chair and Technology Chair.  We only have six of the required nine positions filled, and really could use some help.  There are many benefits to being on the board – not the least of which is having a monthly phone call with some rather enthusiastic people!  You can learn more about these positions on our website at asntx.com under "About Us".  Skip the meeting fees!  Be a board member.
Astrologically Yours,
Wayne Hall
ASNT President 2017-present
Comments
comments