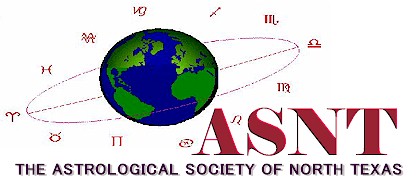 The Astrological Society of North Texas is one of the longest-lived astrological groups in the nation. Founded in 1972, it was incorporated as a non-profit in 1984. The basic mission is to be a source of education to our community about astrology.
We were originally the Astrological Society of Fort Worth and when the group included many members from a wider source, the name was changed to reflect the membership.
We hold monthly meetings on the second Sunday of the month, except for May (Mother's Day). Each meeting includes a short business meeting and a lecture or interactive program of about one hour.
We began offering Annual Workshops in the early 1990s. It is both our annual fundraiser and a world class offering of astrological information/ideas from prominent astrologers. The two day weekend intensive gives an intimate interaction with a famous or up and coming astrologer noted for his/her expertise and approach. Some of the astrologers who have graced our workshops include Rick Levine of Stariq.com, Robert Blaschke of The Earthwalk School of Astrology, David Cochrane (founder of the Avalon School of Astrology, author, and developer of Kepler Software), Stephanie Clement of Avalon School of Astrology and author of numerous books, Chris McRae, author and internationally noted astrologer from Edmonton, Canada, Philip Sedgwick researcher into the Centaurs, Jeff Jawer and Martha Lang-Wescott noted for her research and work with asteroids. See the Events page for our next workshop.
The series of lectures at each workshop is recorded to CD and offered for sale on this website, also. See the Resources page for a listing.
Our ongoing commitment is to be a touchstone for local astrologers, and a source for those wanting to learn more about it and find a like-minded community.
Please accept this invitation to join us at our next event.