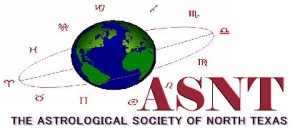 WELCOME TO OUR WEBSITE!
THE NEXT MEETING IS Sunday, April 13, 2014 at 1:30 p.m.
Our speaker is Donna Woodwell.  Her talk is entitled:
How to Use the Mansions of the Moon
Astrologers are familiar with the 12 signs of the solar zodiac – Aries, Taurus, Gemini and so on. But did you know there is also a lunar zodiac? In Western astrology the lunar zodiac is known as the 28 Mansions of the Moon. In classical and Renaissance astrology, lunar mansions were considered an important tool for predictive, electional and magical astrology. In this lecture, Austin-based astrologer Donna Woodwell will explain the astronomy of the mansions, review the 28 Western lunar zodiac signs, and explore how to use them in chart interpretations and electional astrology. Bring along a copy of your own astrological chart, and you'll be able to look up your own lunar zodiacal signs.
Donna is the owner of Four Moons Astrology, an instructor at Kepler College, host of the internet radio show Dead Astrologers Society, and writer at Astrology.com. In addition to her astrological practice, Donna has received metaphysical training in Western, Eastern and indigenous philosophies. She is a certified hypnotist, an Initiate of the Australian branch of the Hermetic Order of the Brotherhood of Light, has studied Earth-based spiritualties, and is a master practitioner of Usui Reiki. An active member of the astrological community, Donna's served on the board of two of the world's largest astrological organizations, the International Society for Astrological Research and the National Council for Geocosmic Research.