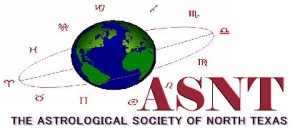 WELCOME TO OUR WEBSITE!
THE NEXT MEETING IS Sunday, March 9th, 2014, at 1:30 p.m. 
Leigh Westin (MS; MA; DF Astrol. S; CA,NCGR), researcher-author and protégé of Kt Boehrer is a former editor of  the Geocosmic Journal and is currently serving as NCGR's Director of Chapters.  A well-known author, lecturer and researcher, Leighdiscovered Venus and Mars out-of-bounds in fixed signs; originated the declination premise from Earth's dynamics; founded the basis and advocacy of true antiscia, and established the theory of progressed LunarSeasonsTM. Leigh's book, Beyond the Solstice by Declination, was cited by The Mountain Astrologer for its "wealth of information . . . by a highly creative astrological thinker."
Demystifying Declination
Expand your tool box with the value of declination. Founded on the creation symbol, the fabled Vescia Piscis, and grounded in Earth's dynamics, Westin's declination premise yields unlocking keys to researched interpretations. Discover the cutting-edge ease of Lifetime Graphs, yielding vivid validity, even to clients, revealing insightful precision, unavailable in longitude. Presented in outline format, easily understood by beginner and professional alike.