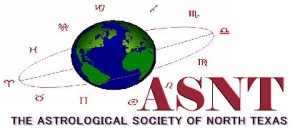 WELCOME TO OUR WEBSITE!
PRESIDENT'S MESSAGE
August 2014
Have you ever known a bored astrologer?  I haven't.  Astrology is about all of life.  No wonder it's never dull.  We study the things that really matter.  A person can discuss things with an astrologer that would never come up in ordinary conversation.  An astrologer can even throw light on why we and others feel or think a certain way at a given time.  Sue Apitz, one of the founders of our organization, used to say when someone commented about her seeing astrologers so often when she had concerns that needed to be worked out, "Some people go to see their psychiatrist.  I go to see my astrologer."
We are so fortunate to have so many resources for studying astrology today – books, magazines, the internet, and, best of all, in this area an organization of people who are as curious to know what astrology has to offer as many of you do.  There's no substitute for talking to someone in person about your interests.  In early adulthood you're sorting out your love and career decisions.  Some are establishing homes and families.  And who isn't interested in discovering what kind of person the new baby or grandbaby may become and how they might guide this person to develop the best of his or her potential.  Some want to know how they might better relate to the difficult boss (or friend, relative, or close neighbor).  Some want insights about health matters.
One type of client I've often encountered is the person who is approaching retirement years who needs to discover not only what he or she is retiring from but also what she might retire to.  Those who have developed interests beyond the career are the lucky ones.  Since people are living longer now, they have many more retirement years than formerly.  This is a time when astrology has so much to offer.  We can tell such things as what the person enjoys (the fifth house) most, whether he needs to be around people much of the time or have much time for privacy (eleventh and third houses), insights about financial concerns, or how to choose favorable times to act.  Best of all, ASNT gives you an opportunity to know other astrologers, hear lectures from local and even national speakers, develop friendships, and share your interests.
                                                                   – Donna